Odie
First appearance: August 8, 1978
Lovable, but brainless as a brick, Odie is Garfield's faithful friend... and often the butt of Garfield's jokes. Odie never thinks, sometimes barks, and always slobbers.


Arlene
First appearance: December 17, 1980
Arlene is the gap-toothed, female cat most likely to share dinner (and insults) with Garfield. They have a love-hate relationship: Garfield loves himself and Arlene hates that.

Jon
First appearance: June 19, 1978
Jon Arbuckle is the bumbling, exasperated owner of Garfield and Odie. Decent but dull, Jon provides love, food, and shelter while his playful pets provide the laughs.


Pooky
First appearance: October 23, 1978
Found in a dresser drawer and adopted by Garfield, Pooky is a teddy bear extraordinaire: lovable, huggable, and always there when Garfield needs him. Garfield shares his deepest thoughts (and his deepest sleeps) with his fuzzy friend.

Nermal
First appearance: September 3, 1979
Self-proclaimed "World's Cutest Kitten," Nermal often flaunts his cuteness while he taunts Garfield about his looks and age. But Garfield gets in his licks: he once mailed Nermal to Abu Dhabi!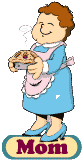 Mom
First appearance: February 13, 1980
Jon's mom is a loving, hardworking farm wife who's very proud of her husband and sons. She's a wonderful cook who believes strongly in quality and quantity. As she sees it, the two most important food groups are potatoes and pies.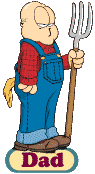 Dad
First appearance: February 13, 1980
As a farmer, Jon's dad is outstanding in his field. He's a down-to-earth guy (literally), who tends to the Arbuckle farm with the help of his family. Jon visits his folks regularly. This annoys Garfield, whose favorite farm activities are eating and leaving.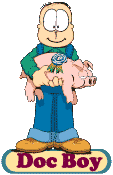 Doc Boy
First appearance: May 17, 1983
Jon's only sibling, Doc Boy lives on the Arbuckle farm with his parents. Like his city-slicker brother, Doc Boy leads a pretty boring life. But at least he only has to feed the hogs. Jon has to feed Garfield.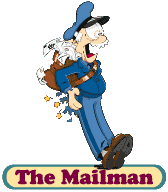 The Mailman
First appearance: January 28, 1984
Though different mailmen have appeared in earlier Garfield comic strips, this particular character has been the Arbuckle postman since 1984. He has faithfully completed his rounds despite rain, snow, dark of night and maulings by one fat, ferocious cat.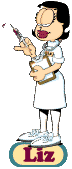 Liz
First appearance: June 26, 1979
Dr. Liz Wilson is Garfield's veterinarian. She treats Garfield like a patient and Jon like the plague. Liz does occasionally date Jon, but the romance hasn't clicked, primarily because Jon is afflicted with terminal geekitis.